THE ROYANS STORY: FROM HUMBLE WAR-ERA BEGINNINGS TO THE LARGEST COMMERCIAL REPAIR NETWORK IN THE REGION
When organisations are in need of commercial vehicle repairs, Royans has been the leading service provider in the industry for over 78 years. This has been achieved through decades of consistent and unparalleled delivery of specialist care and customer service, with our growing, family-owned teams across Australia and New Zealand, continually refining their craft to always offer modern and affordable solutions.
Starting from humble beginnings, we have grown to become enormously proud of our rich heritage, allowing generational teachings to act as the foundations of our services and influencing how we operate, even to this day. Over the years, we have exponentially scaled our operations, expanding from our own family-run business to welcome others who share our values and work ethic. This has been vital in creating extensions of the Royans network across both Australia and New Zealand. You will not find a larger commercial repair network, with a wider range of services, allowing us to service more clients in need, on a more diverse range of vehicles.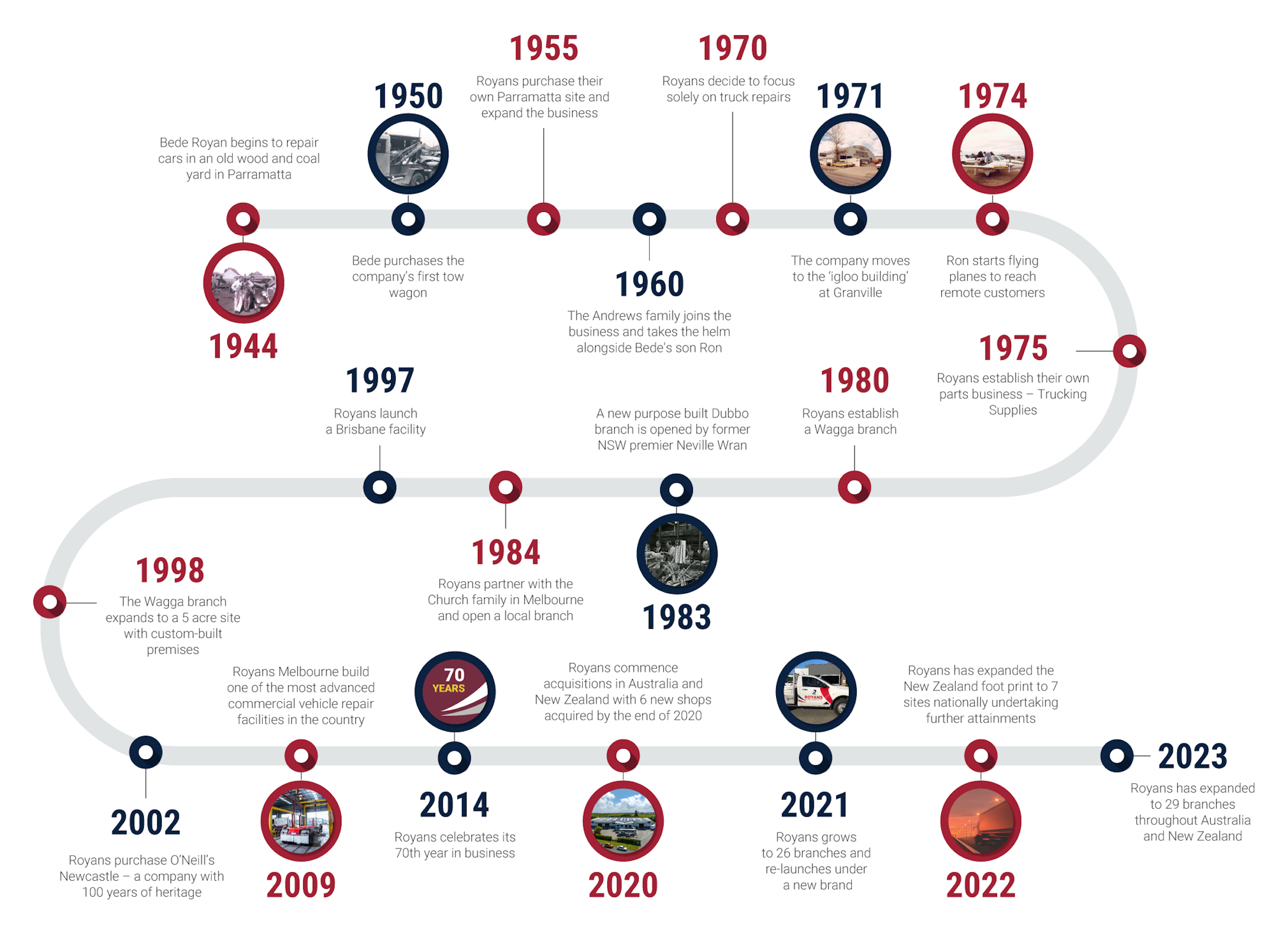 ROYANS BEGINNINGS AND HISTORY
In 1944, during the final years of WWII, Mr Bede Royan of Parramatta founded a small business named Royans that repaired cars throughout the area. Soon after, Royans saw great success and proceeded to purchase a new site of operations, as well as hiring additional tradesmen to tackle the growing workload.
By the 1960s, the next generation was ready to take over running the business, with Bede's son, Ron, and his brother-in-law, Don Andrews, taking the helm. Under their guidance, Royans steadily transitioned away from car repairs, and instead focused on their speciality of commercial vehicle repairs.
This led Royans to enjoy further meteoric growth. By 1972, the original site in Parramatta could no longer accommodate the incoming demand. Operations shifted to the 'Igloo' building located on Parramatta Rd in Granville, which acted as the first specialist heavy vehicle repair facility. Two more facilities soon followed in 1980 in Wagga Wagga and Yennora, before the Dubbo branch in 1982, as well as the first interstate establishment in 1984, after the partnership with the Melbourne-based Church family.
Steep evolution only continued, with business in Sydney again outpacing the capabilities in the Granville facility, prompting a move of the branch to Chipping Norton in 1986, where operations exist to this day. This year also marked the birth of the Trucking Supplies business.
ACQUIRED FAMILY BUSINESSES
From Bede's humble beginnings in wartime Parramatta, to an organisation encompassing numerous branches and employing over 500 employees across Australia and New Zealand, one thing that has always remained consistent is our foundations of family.
Royans started as a family business, and as we have grown to open new branches and partner with existing operations, we have seen our success flourish because our wider group consists of individuals who are working directly alongside their families in creating high-performing businesses.
From the initial partnership with the Church family that allowed us to venture interstate, to more recent inclusions into our wider Royans Group, including the O'Briens family in Canberra,the Nathans family in Sydney's North-West and the Wilcocks family at our Christchurch site, combined we are continuing to build our legacy with like-minded, family entrepreneurs dedicated to helping our clients across Australia and New Zealand with unmatched commercial vehicle repairs.
Expanding into New Zealand
In August 2020, the Royans group made its first international expansion on our growth trajectory, moving into New Zealand and partnering first with Transvisual Spraypainters in Auckland. This is a significant milestone for our company as our first move into New Zealand.
From the start, our trans-Tasman network was planned to have centres nationwide across both countries and take our business and the commercial transport industry to another level.
This is being achieved as since 2020 we have expanded to 7 sites across the North and South islands of New Zealand. These include sites in, Wiri, Otahuhu, Palmerston North, Wigram, Christchurch, Invercargill and Manawatu.
We aim to continue to provide premium solutions and services to a wider market and we believe that our strategic partnerships, the right teams and our family values will help us to meet the needs and expectations of our new customers. We look forward to building long-term relationships with them.
We are grateful for the support and trust of our existing customers, and clients of the former business we acquired, who have been instrumental in our growth and success.